I, Caliban
PLEASE NOTE: This is an old site, which remains for information and archive reasons. While there is much here to look at, It has not been updated since 2011. Please visit Tim Crouch's main website for current info.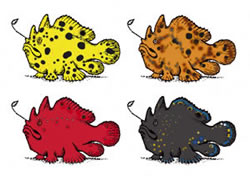 A one-monster interpretation of The Tempest
Written and performed by Tim Crouch
designed
by Graeme Gilmour
a Brighton Festival Commission
For everyone
aged 9+.
Suitable for
Year 5 and above.
"O. Look at you.
"O, you're beautiful. You're beautiful. I've never seen such beauty. You are such fine things. You're brave spirits indeed. Sit where you can. Brave spirits or gods. Are you gods? Are you a god? No? You must be a god with a jumper like that."
Events on Prospero's island as viewed by Caliban, a puppy-headed monster alone on the island at the end of The Tempest, alone with his memories, his magic tricks and one last bottle of wine. I, Caliban is a sweet and sorry tale about injustice, inebriation and missing your mum.