I, Peaseblossom
PLEASE NOTE: This is an old site, which remains for information and archive reasons. While there is much here to look at, It has not been updated since 2011. Please visit Tim Crouch's main website for current info.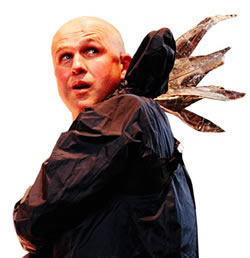 A fairy in wellingtons has a Dream
written and performed by Tim Crouch
designed
by Graeme Gilmour
a Brighton Festival Commission
For everyone
aged 6+

"There's a lion that isn't a lion. A wall that talks and the moon comes down with a dog and everybody's killing themselves but there's no blood, and I'm in a play, but I don't know the words. I'M NAKED AND I DON'T KNOW THE WORDS!!!"
The story of A Midsummer Night's Dream as re-lived through the fevered nightmares of Shakespeare's most neglected fairy. Funny, heart-breaking and everso slightly crazed, I, Peaseblossom is a gloriously anarchic dream of a 'dream', perfect for children and adults alike.